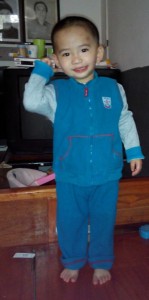 Five years ago we took the most amazing journey to get our daughter. She was born in Guanxi, China and named Gui Chin by her nannies. When we got there she was more beautiful than we could have imagined. We named her Joanna Mei Li and documented our journey here –> www.bringinghomejoanna.com
Joanna is now 6 years old and is an incredible little girl. She is beautiful and smart. She is funny and outgoing. She loves music, sports , crafts and everything in between. She amazes us every day! And now she is so excited to get a little brother from China. She is getting ready to be a big sister!
Just a couple of days before Christmas we received a call from our agency asking us if we would be interested in a little boy. Interested? We would love a little boy! Follow along with our next trip to bring him home. He was born in the same province that Joanna was born in; Guanxi, China. His nannies named him Min Cheng Xin. We are excited and nervous all at the same time! We hope we can do as good a job as we did with Joanna with our little boy.
We leave on July 12th and will post updates and pictures to this site along the way……